Products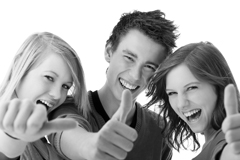 BMChat development group started providing voice and video chat service since 2004, and 4 years later it released its new product -- Blue Media Chat (BMChat) -- with own copyright and source code.
BMChat includes two releases for different scenario:
* Web base release is used for fast installation. With Microsoft Internet Explorer only, users can enjoy the chat easily without installing any other software
* Application release supports most popupar browsers in Internet, includes Micorosoft Internet Explorer, Mozilla Firefox, Google Chrome, Opera & Apple Safari, but requires download and installation.
Both releases support not only Windows XP, but also Windows Vista, Windows 7 & Windows 8.
BMChat supports the facilities listed below:
1. Text chat for public and private messages
2. Voice chat with multiple microphones supported, which will be useful for Karaoke
3. Private voice chat which enables your voice can be heared by your friend only
4. Video chat with 320 * 240 and 144 * 120 window size supported, all the popular cameras includes non-driver cameras supported
5. Check the detail information of users, including the level and ugid. With this option you can trace a user and then locate a user
6. Rooms, sites and global messages broadcast for administration, which is mostly used for casting management messages. If a room or a site is deleted, message will be sent out in the room and the site to inform the users to leave automatically
7. Shortcut and badwords filter with the option shown/hidden
8. Manage your own themes, icons and images
9. Dedicate flash nick, indicator and icon for different users
10. Banner, toolbar and marquee for link exchange in your site
11. Flash games and TV embeded in chat to make your chat funny
12. Clone sites enable one site have multiple interfaces for different users, think about that you can have a site in Chinese, English and Germany interface in the same time
13. Enable and disable voice in/out, text in/out for particular users, useful for temporary punishment
14. 128 user levels supported for guests, members, operators, administrators, bosses and invisible administrators
15. Priviledge management detailed to dedicate operator
16. Text only rooms, voice and text rooms, video & voice & text rooms supported
17. Lock and unlock rooms with password
18. Bad users kicked out for special rooms
19. Period banner broadcast for advertizement
20. Auto F9 enables you to pickup the mic once it is released by others
21. Short number for users which makes all the sites be able to have the ugid started with zero
Besides the common facilities, new ones developed by BMChat development group which are advanced in the market:
1. Resellers and super resellers with rooms and sites assignment
2. Logo and banner self service for different resellers
3. Real time chat log shows you all had happened inside and outside the chat rooms
4. Single and multiple languages selection
5. Self service translation management
6. Online user statistics for rooms and sites
7. Mandatory login list and optinional enter room list
8. Strong ban system for bad users
9. Restricted fresh users for voice and text out
10. Show you the loading and online users of the system in real time
11. Adjust the parameters of the system with your own requests
12. Web based system console to reboot the chat service, web server and server OS
13. High available for chat services with dual instances redundantly supported
14. Sounds and flash window supported like MSN and QQ
15. Permanent rooms locked from the site panel and temporary rooms locked from the chat
16. Global & category duplicated login checking
17. Scheduled cast for single and regular tasks, which is useful for announcement and reminding
18. Minimized to task tray and flash icon (application release only)
19. Unicode supporting enables all the languages be shown and mixed up
20. PM & VPM interception enables the administrators to read and hear the whisper (Will be disabled for legal requirement accordingly)
21. Move the users to the specified room by administrators
22. Rooms and sites cast in the chat to force all the users in the chat to listen to you